I have 99 problems and TikTok is one of them!
This assignment was really hard for me because I don't really like to engage with social media apps. I have never been really interested in technology, so I try to keep things on a very basic level. So, I decided to look into TikTok. I did not create any videos, nor did I post anything, as I don't feel comfortable with having a digital footprint of this sorts, but this is my review of the app.
Pros:
Creative and Entertaining Content: TikTok has a variety of videos that show people dancing, lip-syncing, skits, DIY projects, and informative videos. The purpose of this app is for users to express themselves in unique ways.
User-Friendly Interface: TikTok is quite easy to navigate. The app's algorithm analyzes user preferences and presents personalized recommendations, tailored to your preferences.
Global Community and Trends: TikTok has a massive user base, making it a platform with a diverse community. TikTok's accessibility features make it inclusive for various user groups and with the text-to-speech functionality, captions, and customizable settings, this app can meet the needs of individuals with disabilities.
Cons:
Potential for Cyberbullying and Harassment: TikTok is not immune to cyberbullying and harassment. Viewers can leave negative comments or engage in harmful behaviour, leading to conflict. You can block on TikTok, but it is not fool proof.
Privacy Concerns: Anytime you use social media, or computer anything, you run the risk of having your personal information hacked.
Time Consumption and Distraction: TikTok's addictive nature can lead to excessive distraction from other responsibilities. I think of how much time I spent on it this week for my review and I couldn't believe it! I'm not going to lie, I wanted to watch more!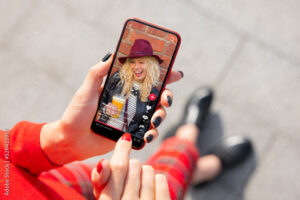 To get started, I watched a Beginner's Guide to TikTok. It was pretty good for just an 8 minute video to get started. I also watched a video on how to create TikTok Videos. It was a little longer, at 26 minutes. Overall, I enjoyed watching some of the videos, however, I did not even want to attempt to make a video. I honestly cannot get into this craze of videoing one's self and posting it for all the world to see. I remember when I was in Vegas last summer and we had talked about doing one of the trends, with the "this is my first drink", second drink…..until you get to, "this is my last drink".  When we woke up in the morning, one of us said, "oh, weren't we supposed to video our drinks?". It just isn't second nature for me to always have a camera in my face (and I am happy that we didn't create that video!). I am pretty sure, I will delete this app as soon as this class is over.