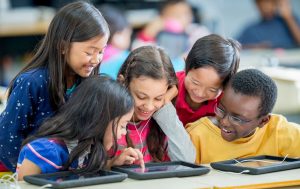 (Taken from here)
I've had a good couple of weeks to implement seesaw with my small reading groups. My purpose, at the outset, was to implement Seesaw as a tool to generate enthusiasm and engagement for the big time learning that occurs in L.L.I. (Leveled Literacy Intervention). I am trying to use a social media tool to help me engage and raise enthusiasm with my students, their family, as well as myself!
So, how am I doing on those 3 engagement fronts?

(Taken from here)
Low hanging fruit. The students I have in L.L.I. groups range from grade three and four. For the most part, students I pull into small group, outside the classroom support see it as a monumental honour and want to make sure their friends know they're coming. A big wave to their friends, an unnecessarily loud announcement to their classroom teacher that they're going for reading, and a skip down the hall.
That said, when I introduced the concept of using Seesaw, the shining eyes shone a little bit brighter. Over the past sessions, they've absolutely loved the idea of being able to document what they're doing. They ask me to take pictures and videos of them reading, and take photo evidence of the word sorts they puzzle over. While coming to read has always been fun, it's added an extra feeling of play and pride to what we're doing.
No surprise me that the interface has basically been intuitive for the students. It's not that there is anything complicated about it, but it confirms to me that this kind of sharing, through social media, is approaching instinct for these kids. An additional benefit, perhaps, is that this provides them with a positive and productive example of social media use.
1/1

(Taken from here)
I've repeatedly made reference to my distaste for social media. It's a predisposition that I'm quite aware of, and more or less accept. While I don't think I can change my gut reaction to social media, I can work on truly appreciating the potential and power it has to do good.
One element of sparking that appreciation is deliberate introduction of positive experiences. And this implementation of Seesaw is certainly turning into just that. The enthusiasm my students have for this is contagious, and I'm infected! It is fun to quickly capture all kinds of artifacts of student learning. The fact that this is shared, and not teacher driven, is making  it all the more engaging for me. This is quickly turning into something, like the Smart Board, that I will not be able to live without.
2/2

(Taken from here)
I've got to be honest, I've fallen flat here. Parent engagement is where I am really hoping to make a splash. Not to mitigate the importance of my students' engagement,or mine, but this is where I have had to work hardest over the years. I was hoping that by reaching out through a medium that might be more relevant, I could create a shared celebration of learning amongst my students, their parents, as well as myself.
Now, my sample size is small. Six students. Actually, and sadly, we are down to five now.  In talking to a grade four teacher about this, she was quick to remind me that this is a shared challenge at our school, and she is right. We are part of a community where many families are facing intense day to day challenges that I cannot truly appreciate.
But, there is some hope! In calling a parent on Friday, one of my student's mother was quite friendly and stated simply that she didn't get what I was sending home (parent invitation for Seesaw). She liked the idea of being able to see what her daughter was doing in reading, and this didn't surprise me. She is a reliable support for learning at home and is very consistent in reading take home books with her daughter. I think she will get into this.
There will also be some opportunities for face to face meetings. One parent makes occasional visits  to pick their child up at the end of the day, I'll just have to keep an eye out during my end of the day supervision.  We also have three-way conferences coming in November.
2/3 – 66%
I am quite happy with how this project is going. Honestly, it doesn't really feel like a project. Although I was initially tempted to go with some sort of personal learning project (aurora photography), this is proving to be just as engaging for me, as I talked about a moment before. Improving my practice is meaningful, and puts a smile on my face (as well as my students' faces).
So, a couple weeks in, two out of three isn't so bad!  The student engagement, as expected, is there. My own engagement is even higher than I expected. Going forward, it is clear where I will be doubling down. Trying to create that engagement for parents is a key to my project and I want to see what I can do!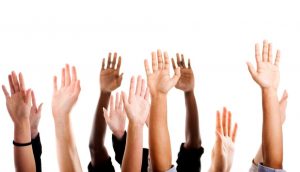 Thanks for reading!
Joe