Social Media.  Love it or loathe it, there seems to be no escaping its influence.  I remember a time before the internet was even a thing… and all the stages in between. Some of my fellow classmates are probably too young to remember the good old days of dial-up!   ICQ, MSN Messenger, MySpace, … my goodness how far we have come!
The negatives of social media can seem overwhelming.  It's a bit like a vampire, sucking time and energy from our lives.  In the wrong hands, it can be dangerous – cyberbullying, fraudulent interactions such as catfishing or even identity theft.  It is scary to think about all of the personal information that we release just by picking up our phones and scrolling through Facebook or by having our locations tracked in Snapchat (which I do not have and will NEVER download) or … is there any danger with Twitter other than I can blink and an hour has gone by while I read people's rants on politics or get chatting with colleagues in my PLN? 
Though I feel social media is a necessity for our cheer gym and for me as a personal networking tool, I worry about the privacy of my own data and that of our students who may not be the most savvy of digital citizens.  I feel pressure to answer messages right away or to be checking my social media platforms continually.  As a result, I schedule regular "power downs" and completely disconnect from all social media for at least 24-48 hours.  In the summer, I'll often go longer.  Does anyone else require frequent breaks from social media in order to protect their own sanity?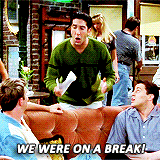 But, despite the dangers and all of the not so wonderful things about it, social media can also be a fantastic way to connect with others across great distances.  It is a fantastic collaborative space where I can get inspired for my lessons, find new resources, and connect with other classrooms or educators around the globe.  My best friend met her husband in a chat room in 2000… so I do know that connections forged online can be lasting and meaningful.  The power at our fingertips is absolutely incredible when you think about it.
Professionally, social media is an absolutely critical component of my learning and growth as an educator.   As so many of my fellow EC&I classmates have said, the connections we have with one another online help to strengthen our practice.  We can be continually learning and growing professionally with access to MOOCs and the interactive nature of social media.  But that also can bring a bit of a negative – continually comparing oneself to others online and feeling inferior.  As my classmate Amanda said in her blog post, "When I see all of the creative, thought provoking, and engaging things that other teachers are doing in their classroom, it's hard not to compare myself to them."  I totally agree, Amanda.  And a small part of me wonders if somewhere out there, maybe someone feels that way about my posts.  I hope not… because I am fully in the "fake it until you make it your reality" school of life. 
Though the following infographic is slightly dated (RIP Google+), I found this to be pretty spot on for the pros and cons of some of the most popular social media.  Facebook, Instagram and Youtube are the ones I use the most, and Twitter now that I'm getting used to using it (still hate it on a mobile device).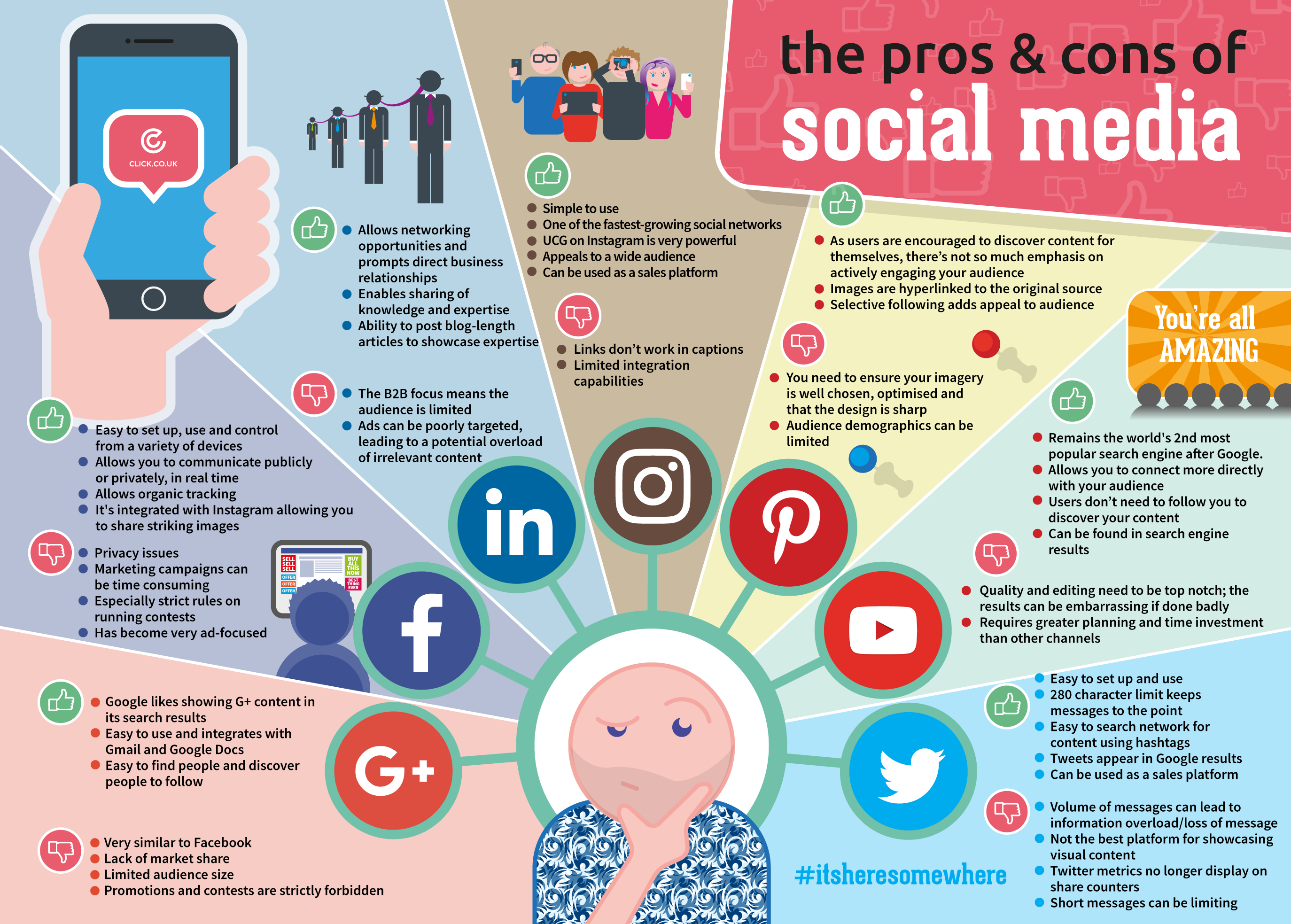 Probably the most incredible thing about the power of social media for me, so far, has been the ability to connect with others and grow in my confidence and abilities as a teacher.  An inquiry I jokingly made last semester when I was in EC&I 834 – "How the heck does a person become an online teacher around here?" – has led me to a slight change in my career this year, all thanks to social media and a few awesome people who pushed me in the proper direction.  
How has social media affected your personal or professional life in positive and/or negative ways?  I'd love to hear your stories!