Here it is folks, here you have it! My final videos of my major learning project. The cake I made today was Turtle Pie Cake
Turtle Pie Cake with Chocolate Cake, Salted Caramel and Pecans"

Turtle Pie Cake – tender and moist chocolate cake layers with salted caramel, toasted pecans, chocolate ganache and pecan buttercream.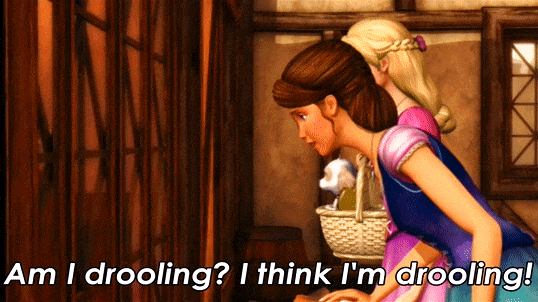 I chose to use Tik Tok as my platform for showcasing my work as a continuation from ECI 832 when I first began to explore TikTok. Last time I learned the basics and was exploring the tools. For this class I wanted to use the platform to show my learning throughout the process of this project, and toil with the idea how TikTok could potentially be used in a classroom to show students work. Although at this point I won't use TikTok with my students until/ if ever there could be a TikTok created that is specifically dedicated to school use only. Wouldn't that be fun? It could follow all the safety precautions, and be monitored easily, only have access to certain features… a girl can wish!
I broke my final project into 2 stages: the first being baking the cake from scratch which was a whole aspect I did not plan on learning to do when I chose cake decorating but it had to happen so I feel like this project was actually 2 learning projects instead of 1. The second stage was the decorating.  Todays cake was much more extreme than the other cakes I have made. This was required a homemade caramel sauce, chocolate ganache, homemade pecan butter, roast pecans, and then the buttercream; it was a lot of balancing and playing with aspects I haven't learned much about yet because those come in Cake by Courtney's Advanced Decorating classes.
I did have to do some more research on my own outside of the beginner class because I wanted to add piping details to the top of today's cake (which I showcased last week), click on this link if you want to see last weeks piping adventure called I'll Take You To The Icing Shop, I'll Let You Lick the Spatula.
Alright here is video #1, I will be honest I had to redo this TikTok video twice because I guess when I did it on Friday it did not upload fully and all I got was 7 seconds, I realized this when I went to create this post… Needless to say that was 2 hours of editing for nothing and another 2 hours to redo, I will be honest it's not as edited as the last one but it's all I had left in me and I am super frustrated…
Is it wild to realize that making the TikTok video took longer than actually making the cake?!?!?
Making The Cake:
(I am even more frustrated that it is not posting here properly so all you are getting is a link to this video, sorry team!)
Decorating The Cake: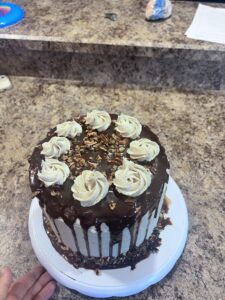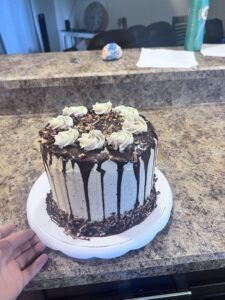 It's been a slice y'all!
Christine