What a week.  Three of my four children were sick with some kind of enteric stomach bug that would bring  a woolly mammoth to it's knees.  The afternoon and evening had been cacophony of tears, dry heaves and vomit. My wife and I fought valiantly against the scourge than has consumed our children. The only weapons at our disposal were children's Gravol, ginger ale and towels.
For awhile the outcome looked bleak. Eventually we managed to stem the torrent of barf by putting the the quarantined children into a Gravol induced coma.   As I cleaned the hallway with the last Lysol wipe, I could hear the kids grunting and moaning in their beds. This is what  a civil war hospital must have sounded like. I thought to myself (upon refection civil war hospitals were probably better organized with less vomit and requests for Paw Patrol).  I finished cleaning the floor and basked in our victory. Then it dawned on me. It was Tuesday. Class started in ten minutes. Thank goodness for online learning.
The discussion on online activism was thought provoking for me. As I sat there in the glow of the laptop screen with my one year old son on my knee, I realized how long it had been since I thought about Joseph Kony . I remember the first time I saw the Kony 2012 campaign flash across my Facebook feed. To be honest, I was impressed at the thought of being involved in a grass roots movement, using social media to contribute to bringing awareness and change to a major international issue. My Facebook feed was adorned with comments like " It is good to see people getting behind something like this." I watched the likes and shares pile up. How could you not behind a movement such as this? In retrospect this movement was not free from some well founded criticisms.
As the saying goes hindsight is always twenty twenty. This video from 2013 sums up a number of issues of the Kony 2012 movement.  However, at the time it felt like an unbridled wave of positive energy and influence. As a young man, I got caught in the altruistic hype that surrounded the campaign.
Then as quickly as it came the Kony 2012 movement faded. The rampant idealism of the campaign was replaced by the (as the above video so eloquently puts it)  next internet craze featuring a man dancing like a horse . This rapid exit from public consciousness caused some to view the Kony 2012 campaign as a punchline and a shining example of quick and easy activism .
I did not realize how cynical I was of internet activism until last week's class. I would be bothered by statues strung together with hashtags drawing attention to various causes and profile pictures sporting different filters. Why is this? Am I getting crusty as I approach middle age? Am I an old man yelling at the kids to get off my digital  lawn?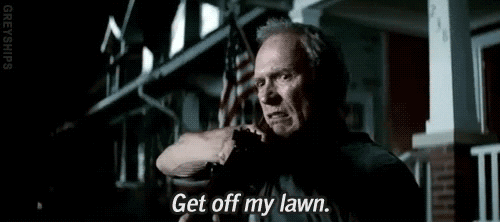 I don't think so. I think that Kony 2012 taught me to think more critically about online social action. I need to be careful that I don't ignore the benefits of digital activism. In the final analysis, Kony 2012 did in fact demonstrate how social media can be used to bring awareness to a cause . It also showed the importance of skepticism when considering digital social movements . In the end, Kony 2012 serves as an example of the power of social media and digital activism and the need to use social media responsibly as platform for social action.
I was not expecting to have such a marked reaction to the subject of digital activism. I would be interested to hear other viewpoints and opinions. How does digital change as social media advances? How is involvement in a cause defined? With so many options for communication, how does one ensure a consistent message ? I know I have just touched the surface of a complex and intriguing subject. These are just a few of the questions rolling around in my brain at 12:30 on a Friday night. Thank for taking the time to read this and please share your thoughts in the comments if you are so inclined. See you in class!