The word "activist" has, in the past, had a negative connotation for me.  I pictured protesters and angry people (this is a similar reaction to my classmates Catherine and Melinda).  I follow some really amazing people on Twitter and to see how humans treat one another in online spaces or on social media – truly cringe-worthy exchanges at times – makes me feel like not one person has been taught any manners.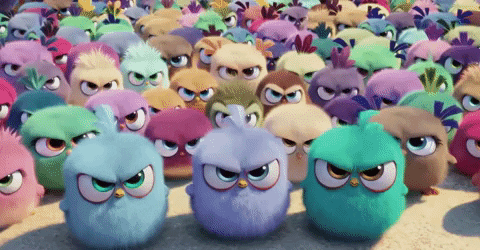 All the chirping can be a bit overwhelming and has a tendency to make people feel disappointed with the lack of empathy, lack of respect, and sometimes even the lack of common decency towards other people.  Heck, even Thumper told us how to treat other human beings.
But… I've recently started to rethink that connotation, mainly thanks to the learning I am involved in through my grad studies and the incredible EC&I 831 classmates that I now consider part of my PLN.  We have created such a great group who share and tweet ideas to each other, and work together to support each other's projects and personal learning goals.  It is these interactions which have started my shift in thinking, just as there is positive social activism that is restoring my faith in humanity.
A social activist, according to the Oxford dictionary, is "a person who works to achieve political or social change, especially as a member of an organization with particular aims."
Can online social activism be meaningful and worthwhile?
Absolutely it can!  There are even awards for the best social activism campaigns.  Check out the Shorty Awards, which honours the best campaigns supporting social activism movements and cultural moments.
Hands down my absolute favourite digital campaign in the past few years has a message that really hits home for me.  I lost my mom in 2017.  She was only 59 years old.  No matter what she was going through – two bouts with cancer, living with COPD, raising five kids, living with an alcoholic spouse – she always looked on the positive side and encouraged everyone around her to "Be Kind Always."  I miss her every minute of every day.  When I learned about the "Won't You Be My Neighbor?" campaign, I was moved to tears.  It is definitely a sentiment that my mom embodied, often volunteering her time and energy to helping others without any thought for herself.  She believed that being kind to others was the single most important thing you could be in your lifetime – that sending out kindness meant that the good vibes would just wash right on over you, too.  My momma was a smart lady.
"The Won't You Be My Neighbor? #BeMyNeighbor digital campaign sought out to honor Mister Rogers' legacy by encouraging everyone to spread kindness to every corner of the world. To offset the negativity on the internet, the campaign leveraged multi-platform and real-world activations.  The goal was to bring back the nostalgia of Mister Rogers' Neighborhood and inspire the online community to take action and show a little kindness can make a world of difference. This universal message crossed generations, cultures and backgrounds, and became the foundation of the campaign."
The #BeMyNeighbor campaign took the internet by storm, and the message of kindness resonated with everyone, garnering support from fans, influencers and celebrities alike. The impact of the film extended beyond the digital campaign, and prompted spontaneous acts of kindness across the country. People donated to local charities in Mister Rogers' name, school groups started clothing and shoe drives, and theater chains provided postcards to moviegoers to write kind letters to their neighbors. source.  There was even a contest:
Is is possible to have productive conversations about social justice online?
Yes.  Part of having productive conversations is being a digitally responsible citizen.  Knowing how to have an appropriate conversation online is a skill that doesn't just happen – it is a learned behaviour that must be practiced!  We would not expect a baby to be born knowing how to communicate – they learn communication skills by observing and practicing.   Teaching students how to be digitally responsible citizens and participate in effective and respectful online communication is being embedded into curricula at all levels.  Many adults would do well to learn this, as well.  Sites such as MediaSmarts and Common Sense Education have wonderful digital citizenship lessons designed for a variety of grade levels which are ready to use for busy teachers.
Change is hard and doesn't happen overnight.  The difficult and important conversations need to happen.  I am learning this now with my learning project of Truth and Reconciliation.  There is much to learn and do and it is very overwhelming.
What is our responsibility as educators to model active citizenship online?
In the article "The Internet and the Next Generation of Activism," Nick Espinosa wrote "So if the future is being shaped by immediate access to all thoughts and niche populations, how do we as a species move our own evolution forward…?  The short answer is the next generation of educated students who will soon begin assuming power in society."
The following clip, from September 2019, discusses recent uses of social media by young people such as Greta Thunberg and surviving Parkland students to mobilize fellow activitists and supporters.
Many young people today are educating themselves on an increasing level.  Alexa Chukwumah talks about how she used her education and influence as a call to action to start Sanitary Aid for Nigerian Girls in her Ted Talk.
How do we, as educators, help our students to become social activists or to enact social justice?  On her blog, Cult of Pedagogy, Jennifer Gonzalez shared A Collection of Resources for Teaching Social Justice.
A Cautionary Tale? 
With the use of technology can come some dangers, such as invasion of privacy, identity theft, and catfishing (right, Alec?).  There are, however, various groups at work who are like crusaders for protecting the technology that is being developed and used for the public interest.  During my research for our topic this week, I found a social activism group called   #PublicInterestTech.  Essentially, this group works to ensure technology is being developed to meet the needs of the public. "Not just what's latest, and fastest and cool, but what is serving the greater welfare of society. Too many people – particularly those historically excluded or marginalized– aren't able to access, benefit from or influence the technology that is present in our lives."  source
Public-Interest Technology Resources is a website maintained by Bruce Schneier as a resources page for public-interest technologists with a public policy focus.  This is going to become increasingly important as more of what we do in our lives become technologically dependent.
So what are we waiting for?  Anyone with an internet connection and a passion to do something great can inspire social activism.  What is your passion?  How could you use the internet to raise awareness or do something for the greater good?
Photo by Clark Tibbs on Unsplash